Joanne Limburg

Poetry reading: Bookside Down
Joanne performs funny and thoughtful poems from Bookside Down, her poetry collection for and about 21st century children who are into their friends, TV, electronics, collectables and things that make them laugh.
Joanne's books for adults include fiction, memoir and three poetry collections; the most recent of these is The Autistic Alice, which addresses her own experience as a child growing up with undiagnosed autism.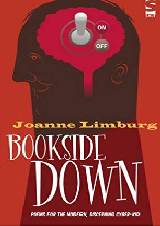 BOOK NOW!
Book your tickets online to see Joanne Limburg.

 Booking for events is now open – see the links at the bottom of the page to our Eventbrite pages. For a full guide of what is on during the Festival refer to your programme if you have one – or see the online version here.
 Please read the following, then click on the links below to our Eventbrite booking page.
 For Main Hall presentations, please book seats for children AND adults. For other sessions, book for children only – parents may sit in without a ticket. So that as many children as possible can have the best experience of Bookfest, we request that you only book for sessions you will be able to attend. We recommend a maximum of three sessions per child per day.
 For full information about the booking process, please see the FAQs at the end of the booking page.
 You will have the option to make a £10 donation to help us fund the Festival. We appreciate your support.
MORE AUTHORS YOU MIGHT LIKE